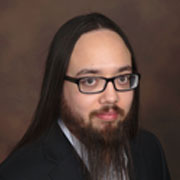 Pastor Paul Smith


Above all, I am a servant and friend of the Lord our God of heaven and earth. I was born on September 23, 1986 in Stony Brook Hospital on Long Island. My mother Mai is an immigrant from Vietnam and my father Bruce is an American of mostly German ancestry. My parents divorced when I was very young. My mother believes and practices Vietnamese Buddhism and my father is an active member of the United Methodist Church of Lake Ronkonkoma. I have two older sisters Kim and Lee.
I grew up in the United Methodist Church since I was an infant. I was baptized and confirmed in the United Methodist Church of Lake Ronkonkoma. School and church were the major influences for me almost all my life and I never really appreciated school until I went to seminary. I don't know where my interest and passion for faith and Scripture came from but it has always been there. It became more clear and evident as I became older. I just thank God for appealing to my heart. I have experienced youth fellowship and ministry for most of my life to this point. It has shaped me more than anything else growing up and I give a lot of credit to NYAC's very own Rev. Glenn Adone who has been a spiritual director and dear friend in my life. He has helped me grow in my faith and has connected me to other Christian friends as well as Christian activities and missions such as Chrysalis and Walk to Emmaus.
 
Through high school in Sachem CSD, I spent much of my energy and focus on church activities. I became a lay servant and served ministry and leadership positions. My involvement in my home church continued into college, as I stayed local for undergraduate school at Stony Brook University. It was during my time at Stony Brook that I received my call to ordained ministry. After I graduated Stony Brook University, I believe my life began to thrive. With the support of family, friends, and pastors and church leaders, I was able to discover and sense the direction God is calling me. I was blessed to go on a trip with my mom to Vietnam. I gained a better appreciation for my Asian background and the culture of my mother and her family. I was recommended to go to Drew Theological School and I didn't know anything about seminary education but I am glad I went to Drew. I had to move out of my mom's for the first time and live on campus. It was such an important and great experience. I learned a lot about myself, about pastoral ministry, and most-of-all social justice. I've gained lifelong relationships and memories from seminary. Despite the tremendous challenge that seminary is, it transformed me for the rest of my life.
Saving the best for last is everything that is going on in my life recently. Drew's M. Div. program required a cross-cultural trip and in January 2012, I went with a class to India for three weeks. It was an amazing experience on its own and it peaked on the return flight where I sat next to and met who is now my wife Kiranjit Kaur. She is an immigrant from Punjab, India and of the Sikh faith. I only first learned of the faith from my course that took me to India. We had to two wedding ceremonies in 2014. She moved from New Hampshire to Long Island shortly after. We now have our first child, a boy, named Kirpaul, in March 2016. While I have been working on raising a family in my personal life, I have served the Cutchogue UMC and East Meadow UMC. Both appointments have been filled with blessings and personal growth for myself as a pastor. I'm excited where God has brought me in my faith journey and now look forward to Woodstock.
---